It's Hard to Orchestrate an Oxygen Therapy Symphony…
…with Only One Octave.
Feeling restrained by traditional oxygen masks,
like a musician with only one octave?
With Oxy2Mask, precisely deliver oxygen across a wide range of concentrations, ensuring your patients receive the exact level of support they need.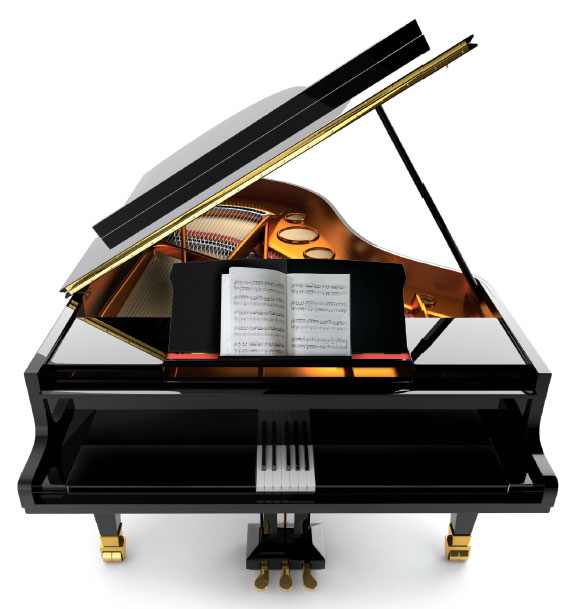 Deliver Precision Therapy and Conduct a Symphony of Patient Care with Oxy2Mask.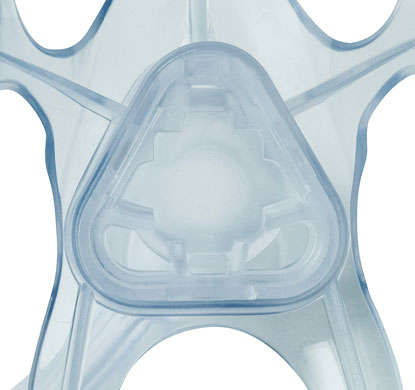 With traditional masks, you switch masks each time you need a specific range of oxygen delivery. It's like switching instruments when you need another octave.
Not so with Oxy2Mask. With our unique and patented diffuser technology, you have all of the octaves of oxygen therapy at your fingertips.
What Respiratory Therapists and Patients Are Saying About Oxy2Mask
"We initiated a trial of the Oxy2Mask™ with several of our patients who already were on mask oxygen. The patients immediately commented that they didn't feel so claustrophobic with this mask."
Lisa Kinler, RRT
St. Tammany Parish Hospital
"These are a safer way to give higher flows of O2. Patients who fight traditional masks will keep the Oxy2Mask on."
Certified Respiratory Therapist
Hospital System in Indiana, USA
"Your mask is the best out there, I use it all the time!  With this mask you don't have to inhale the last breath you exhaled."
Don G., Homecare User
Cedar City, UT  
Oxy2Mask combines
superior patient comfort,
efficient oxygen delivery,
and increased safety.
Oxy2Mask is innovative and user-friendly featuring a powerful diffuser and open system designed to meet the individual needs of respiratory therapists, nurses, patients, and hospital administrators.
Clinician Flexibility
and Efficiency
Struggling with traditional oxygen masks that are inflexible and restrict accurate oxygen delivery?
Traditional masks limit your ability to adjust oxygen concentrations easily and may not always fit the individual needs of your patients.
Oxy2Mask's unique design allows for the precise delivery of oxygen across a wide range of concentrations, ensuring your patients receive the exact level of support they need while saving clinicians time in their busy work day.
Patient Safety
and Comfort
Do your patients feel uncomfortable and confined with traditional oxygen masks?
Traditional oxygen masks can cause discomfort, restrict their movements and limit their ability to perform normal activities like eating and talking.
Help them experience the freedom and comfort that Oxy2Mask brings. Its innovative design ensures efficient oxygen delivery while allowing patients to live life uninterrupted.
Lower Costs and
Reduce Waste
Concerned about the escalating costs of oxygen therapy, inefficient utilization of medical gases, and the wasteful use of multiple oxygen masks per patient?
Traditional oxygen delivery systems can be inefficient, often requiring the use of multiple masks for different oxygen concentrations, leading to increased costs and wastage.
Our advanced design replaces the need for multiple masks, delivering a wide range of oxygen concentrations with a single device. Lower costs and reduce waste with Oxy2Mask. 
Watch to Discover How Oxy2Mask Works
Save 20 minutes a week of total patient care time – or 0.2 of a full-time hospital staff a year.

"We have tried it on many patients and in many different situations. We have found that by going to the Oxy2Mask we were able to reduce therapist time and cost of supplies."
– Tom Strait, H. Lee Moffitt Cancer Center
Learn more on how Oxy2Mask improves patient safety while significantly reducing costs – simply, fill out this form to download a copy of Leveraging Technology to Maximize Efficiencies in Today's Challenging Respiratory Care Environment – Hoerr, C. et al
Download your copy of our Clinical Research Report
The Oxy2Mask Open Face Mask Delivery System Replaces
Traditional Medical Oxygen Interfaces 
Delivers oxygen concentrations from 24%-90%* FiO2, at flows ranging from 1 to 15+ litres per minute.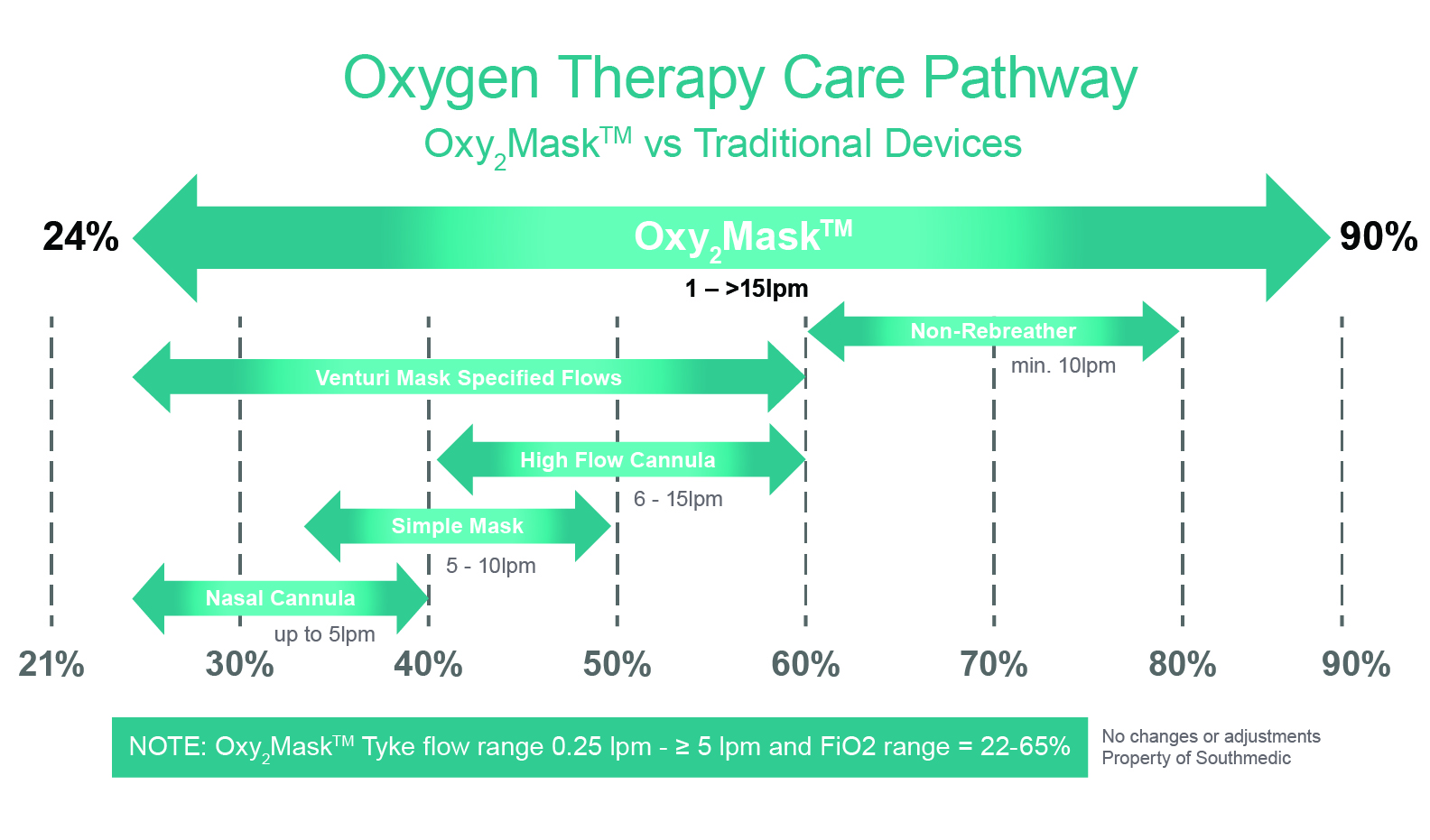 *AARC Clinical Practice Guidelines. Reprinted from Respiratory Care (Respir Care 2002:47(6):717-720)
How Oxy2Mask Compares to Other Oxygen Masks 
Generation of Oxygen Vortices to Maximize FiO2

O2 Flow Directed to the Airway

No Mandatory Minimum O2 Flow Rate

Reduced Risk of CO2 Rebreathing

Reduced Risk of Aspiration

Lightweight, Comfortable + Cool

Reduces Feelings of Claustrophobia

Allows for Hydration/Oral Medication Delivery without Interuption of Rx

Non-Obstructed Patient Communication

Southmedic is a global leader in the healthcare industry, relentlessly committed to improving patient care. Established in 1983, our aim has always been to find a better way to address healthcare challenges and deliver superior patient outcomes. We believe in the power of innovation and quality, a belief that is exemplified in our patented Oxy2Mask™ device.
Our passion is to make a positive difference in over 80 countries worldwide, where our products are trusted and relied upon by healthcare providers. We have built our reputation as one of the largest independent distributors of medical devices, offering a diverse portfolio of products, from nasal splints and respiratory devices to surgical instruments and personal protective equipment (PPE).
At Southmedic, we don't just manufacture and distribute products; we provide solutions that transform lives. Our dedicated sales team supports healthcare institutions across Canada and worldwide, offering expertise and knowledge that ensures the right products are in the right hands.
We pride ourselves on employing passionate individuals dedicated to improving patient care, maintaining a company culture that's extraordinarily customer-focused, and always going above and beyond to meet our customers' needs. In our pursuit of challenging traditional thinking, we strive to remain agile, mirroring a small company's speed and responsiveness with a global company's impact and reach.
Join us in our mission to improve patient care globally. With Southmedic and Oxy2Mask™, experience the fusion of innovation, quality and passion in finding a better way to deliver healthcare.
Download the Full Clinical Research Report
Would you like to know how your hospital could provide safer oxygen delivery, in a way that's easier to use for clinicians, saving them time, and reducing the amount of oxygen used by up to 20%?
Submit the form below to download a copy of Clinical Research of Evaluation of Safety and Cost of an Open-Design Oxygen Mask in a Large Community Hospital.