Frequently Asked Questions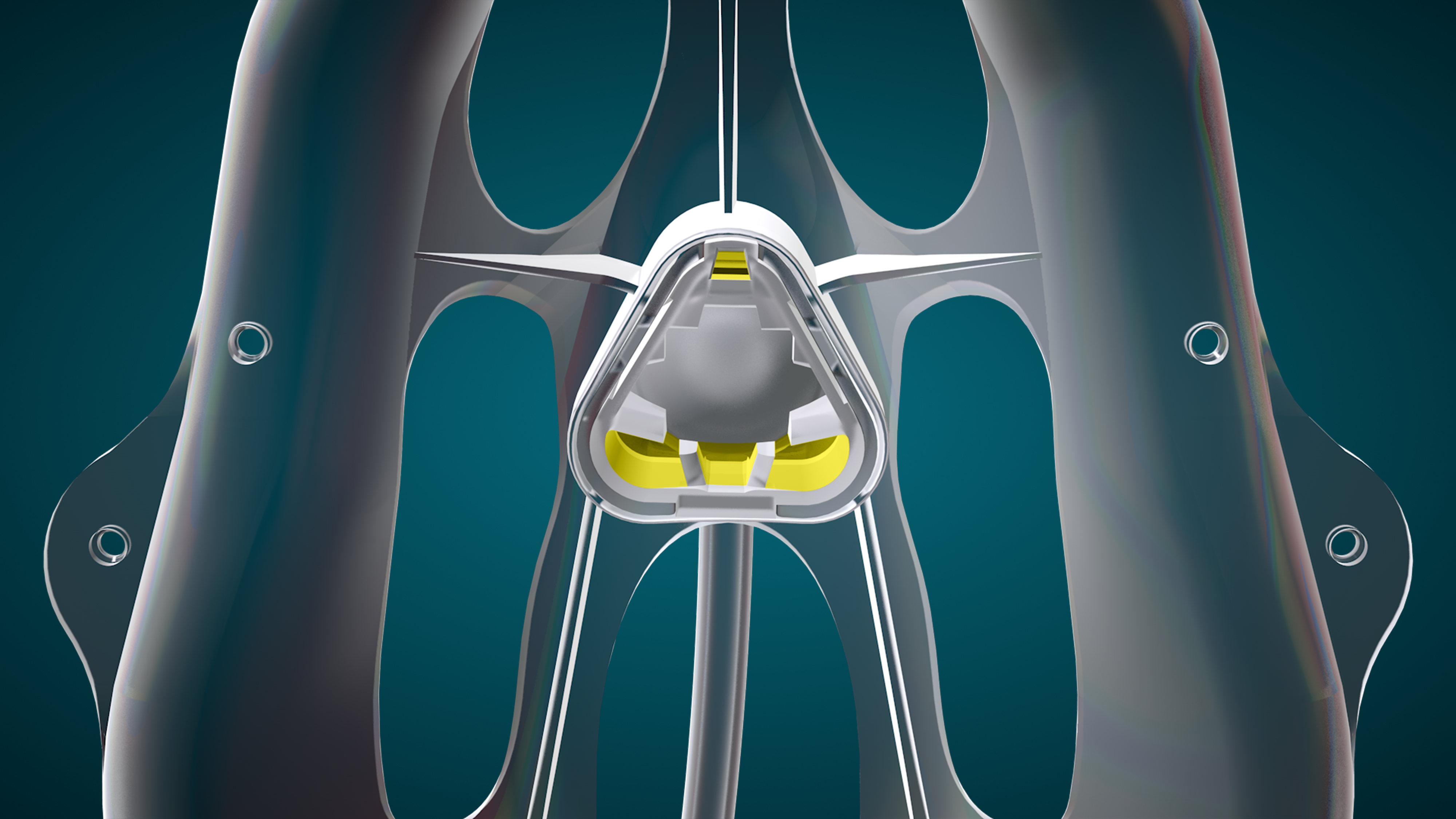 How does the Oxy2Mask™ open design work?
Oxy2Mask™'s patented pin + diffuser system has evolved to an enclosed 'snap-fit' design that attaches directly to the walls of the diffuser and maximizes the potential of the oxygen velocity vortices.
The mushroom-shaped disc redirects the oxygen flow, forming an organized pattern of vortices and a cloud of concentrated oxygen molecules. The patented design features a triangular directional diffuser which refines the shape of the oxygen velocity vortices, allowing the oxygen to pour out of four aerodynamically positioned ports at an accelerated rate more intentionally than ever toward the patients' nose and mouth.
During the patient's inhalation, oxygen flow is mixed with room air drawn in through the mask openings. Respiratory mechanics and breathing patterns determine how room air combines with the delivered oxygen. The concentration of oxygen received during the breath is a function of the oxygen flow compared to the patient's inspiratory flow and tidal volume. This results in the prescribed concentration of oxygen being delivered to the patient.
During exhalation, the mask openings allow expired carbon dioxide to escape, reducing the risk of the patient rebreathing their own CO2. As a result, Oxy2Mask™ is a highly efficient 'open' mask system that delivers high concentrations of oxygen when needed, and reduces the risk of CO2 rebreathing, all while eliminating the need for a closed design, valves and reservoirs.
How do you know Oxy2Mask™ spans 24-90%?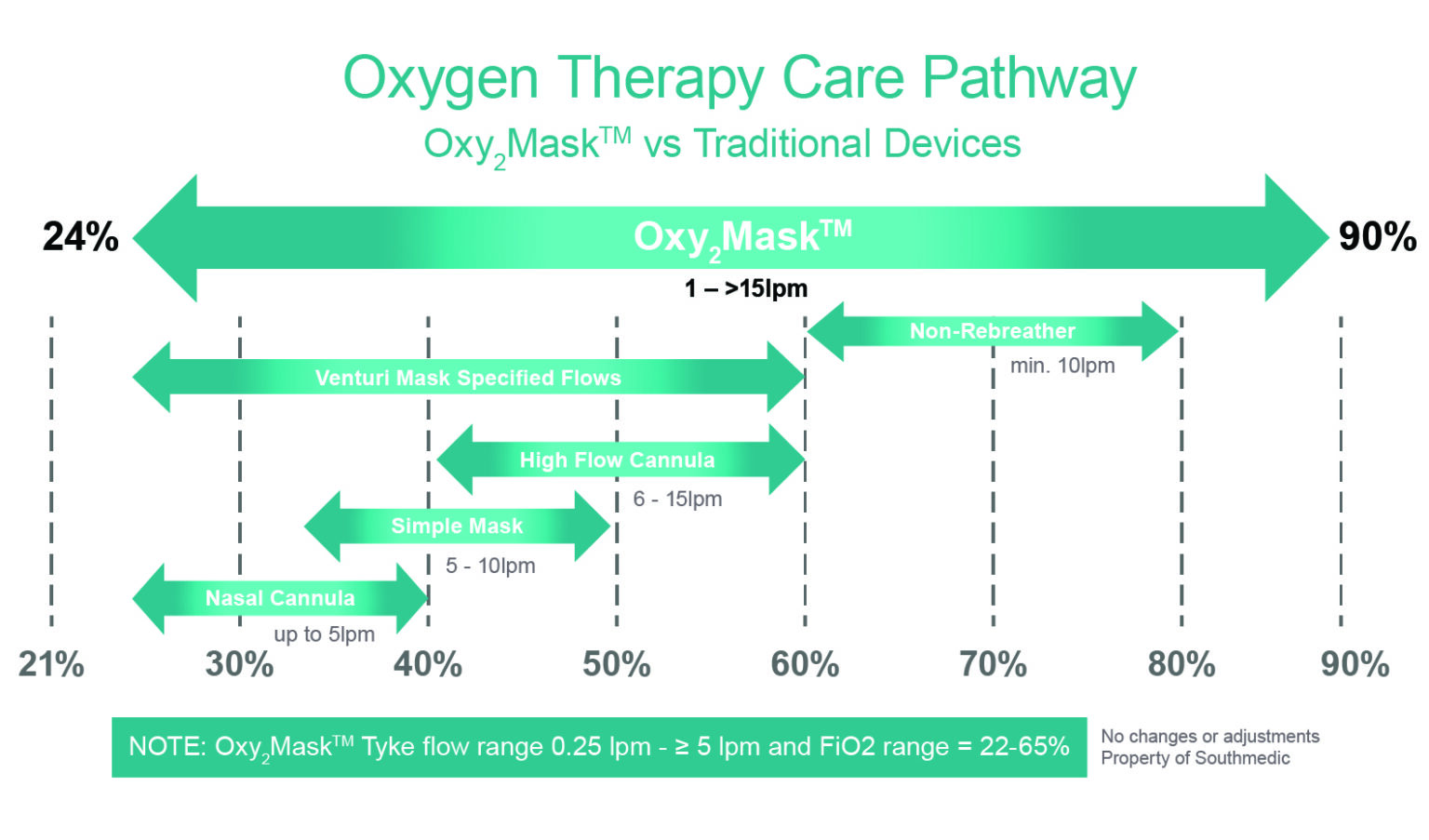 Oxy2Mask™'s revolutionary mask design is capable of delivering the entire range of oxygen therapy; (24 – 90% oxygen concentrations), in a safe and efficient manner. The oxygen concentration of Oxy2Mask™ has been tested and documented in clinical studies. The study, Mathews and Gregg (2008)1, evaluate how the open design of the OxyArm™ and OxyMask™ affects oxygen delivery. Their study finds that the OxyMask™ does deliver 24-90% concentrations of oxygen. They even go as far to say that "OxyMask™ might indeed be the delivery device that solves that age-old problem of having to stock numerous kinds of oxygen masks." You can read this study and more by visiting the 'Clinical Evidence' section of our website.
"The OxyArm™ and OxyMask™ From Southmedic, Inc." by Paul Mathews PhD, RRT and Bethen L. Gregg PhD, RRT. Focus Journal for Respiratory Care & Sleep Medicine Jan/Feb 2008.
Chart Source, AARC Clinical Practice Guidelines. Reprinted from Respiratory Care (Respir Care 2002:47(6):717-720)
Do I need a high flow meter to use Oxy2Mask™?
No, you do not need a high flow meter to use Oxy2Mask™. The Oxy2Mask™ will reach its maximum performance at approximately 15 liters. If additional flows are required, a normal flow meter on flush will deliver up to 60 lpm. You may choose to use a high flow meter to document the exact liter flow delivered but that is often not required if you are using a pulse oximeter.
Can Oxy2Mask™ be used with a humidifier?
Yes, the Oxy2Mask™ can be used with a bubble humidifier, the same as one would use with a nasal cannula with flows from 1 to 6 litres per minute. But unlike a nasal cannula, the Oxy2Mask™ does not cannulate an orifice and therefore, a bubble humidifier is usually not necessary. Additionally, during the patient's inhalation, room air containing humidity is drawn in through the openings in the mask and is mixed with the prescribed oxygen flow.
What are the benefits to the clinician?
Time Savings

Because of Oxy2Mask's broad range of FiO2 and ease of use, clinician's time can be utilized for better focused care as oxygen flow can now be quickly titrated to meet the patient's needs without changing delivery devices.
Improved patient compliance may mean the patient removes their oxygen less frequently, providing the potential for fewer desaturation alarms which take up clinician time to attend to.

Improving Patient Outcomes

Oxy2Mask's open design is cooler and lighter for the patient to wear, and reduces the sensation of claustrophobia that other masks induce.
Improving patient compliance provides the potential for improved patient outcomes, thereby possibly weaning the patient's oxygen needs more efficiently.

Medical Waste and Environmental Impact Reduction

Oxy2Mask's broad range of FiO2 delivery means fewer oxygen devices are required per patient hospital stay, which means less plastic waste.
Reduces the amount of PVC and DEHP that leaches into the environment.
Will reduce emissions if disposed of by a medical waste incinerator.
With sku reduction, comes less waste.

Cost Savings

Product standardization and sku reduction.
Uses less oxygen than traditional oxygen interfaces.
What are the benefits to the patient?
Safety

Highly efficient 'open' system that eliminates the need for a closed mask design, valves or reservoirs
Reduces risk of CO2 rebreathing and aspiration of emesis
Does not contain any natural rubber latex or phthalates such as DEHP

Comfort

Reduces feelings of claustrophobia
Allows unrestricted communication with family, friends and caregivers
Provides access for oral care, oral medications, drinking, and eating
Lightweight design allows mask to sit lightly on the face

Compliance

Aids compliance of prescribed oxygen therapy by reducing interruptions
When using at home, how often do you need to replace the Oxy2Mask or OxyArm?
When using Oxy2Mask or OxyArm at home, be sure to replace the device every 10 days if being used continuously, or every 30 days if using occasionally.
What do I do if the Oxy2Mask or OxyArm becomes dirty?
Discontinue use at first sign of wear or damage. If mask shell is dirty, it can be cleaned with a clean, damp cloth. Do not use any cleaning agents. Do not block or clog the snap fit diffuser as this will stop the flow of oxygen.
Are Oxy2Masks free of natural rubber latex and phthalates?
Yes, all Oxy2Masks are free of natural rubber latex and phthalates such as DEHP.
Are Non PVC Oxy2Masks available?
Yes, Oxy2Mask™ offers four codes that are non-PVC:
OM-7025-8 Oxy2Mask Standard 7' Tube
OP-7025-8 Oxy2Mask Plus 7' Tube
OK-7025-8 Oxy2Mask Kid 7' Tube
OT-7025-8 Oxy2Mask Tyke 7' Tube
Will the Oxy2Mask™ ETCO2 deliver 24-90% oxygen?
No, the ETCO2 Oxy2Mask™ will deliver between 24%-83% oxygen. This is because the Oxy2Mask™ uses a different inverted sampling cup inside the diffuser to allow for better CO2 sampling.
Does extension tubing alter FiO2 output from the mask?
Yes, FiO2 can be affected. To avoid changes in output, use back pressure compensated flow meters to make sure the delivered flow stays the same. In this case, extension tubing will not affect FiO2 because the oxygen delivery will be the same. And, as with all Oxy2Masks, simply adjust flow up or down to meet the patient's required saturation.
In the United States, is there a Healthcare Common procedure Coding System (HCPCS) code assigned to Oxy2Mask™?
Yes, code A4620 (Variable Concentration Mask) can be used when billing the Durable Medical Equipment Medicare Administrative Contractors (DME MACs). The assignment of this HCPCS code is not an approval or endorsement of Oxy2Mask, nor does it imply or guarantee claim reimbursement or coverage. For billing and coverage information for your jurisdiction, there are three options:
Refer to your DME MAC Supplier Manual for coverage
Refer to your claim submission instructions
Contact your local DME MAC