OxyMask™ Benefits
OxyMask™ is a revolutionary open mask design capable of delivering a broad range of oxygen concentrations from 24 to 90 percent, at flows ranging from 1 to 15+ liters per minute. OxyMask™ is your complete mask solution.
Innovative technology that benefits:
The clinician
The patient
Operational and staff efficiencies
Clinician Benefits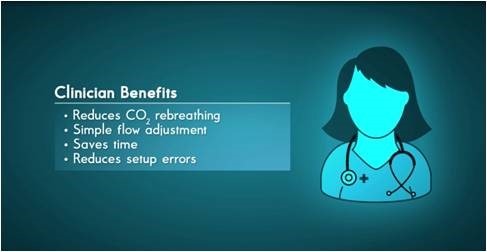 Reduces risk of CO2 rebreathing
During exhalation, the mask openings allow expired carbon dioxide to escape
Reduces risk of aspiration
Open Mask design minimizes the potential of emesis being aspirated
ETCO2 monitoring available
OxyMask™ ETCO2 allows for oxygen delivery and CO2 monitoring for conscious sedation; Bronchoscopy, Endoscopy and Interventional Radiology.
Uninterrupted oxygen therapy
Patient communication, care and oral based therapies are possible without removing the mask and interrupting delivery of oxygen.
Provides greater safety for rotary, fixed wing, and ground EMS/Fire transports
By delivering a high concentration of oxygen at lower flows, total oxygen consumption is reduced. This also becomes a factor in Disaster Preparedness, Mass Casualty, and Pandemic situations.
Does not contain any natural rubber latex or Phthalates such as DEPH
Minimizes potential for allergic response. (Excluding OxyArm™ and OxyChin™, which are not free of phthalates)
Reduces risk of contamination and equipment set up error
By using one OxyMask™ vs. multiple devices, the bedside "clutter" is minimized
Patient Benefits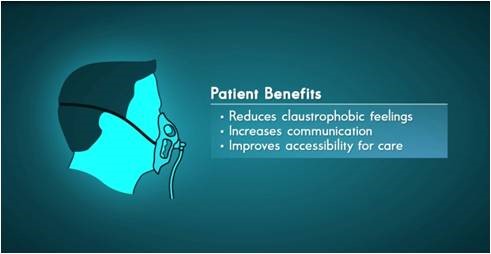 Lightweight, Open design:
Reduces feelings of claustrophobia
Allows unrestricted communication
OxyMask™ provides access for fluids and oral medication
Sits lightly on the face, reducing the possibility of skin breakdown under the nose, on the cheeks and on the ears
Aids compliance of prescribed oxygen therapy by reducing interruptions
Operational & Staff Efficiencies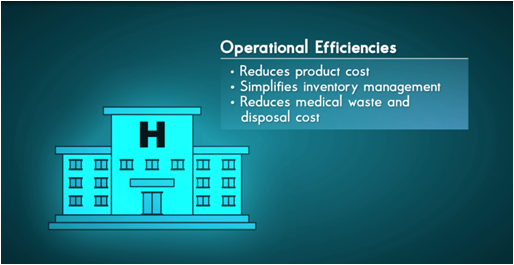 Cost savings
One OxyMask™ replaces many of the oxygen interface masks that have a specific use, flow range, or oxygen delivery range. Allowing SKU standardization and inventory reduction. This frees up valuable financial resources, allowing fewer purchases, stocking and the management of less inventory.
The OxyMask™ can be used for (but not limited to) bronchoscopies, endoscopies, labor & delivery, MRI/CAT scans, radiology and special procedures.
Uses less oxygen than traditional oxygen interfaces
The unique design of the OxyMask™ reduces oxygen consumption, saving bulk oxygen costs. Smaller cylinders used for rotary, fixed wing, EMS/Fire services, and in-house transport can be used for longer periods of time. This not only saves oxygen costs but allows for additional cylinder time providing added safety during transports.
Decreased oxygen consumption is critical in disaster preparedness and mass causality scenarios when medical oxygen resources are limited.
Promotes early discharge and may lower re-admittance
The flow range capabilities of the OxyMask™ facilitate patients leaving the hospital without the need to transition to a nasal cannula.
The use of OxyMask™ may prevent re-admissions when patients are unable to wear a nasal cannula and need a higher level of oxygenation.
Time savings
Clinician's time can be utilized for better focused care as oxygen flow can now be quickly titrated to meet the patient's needs without changing delivery devices
Reduction in medical waste and environmental impact
OxyMask™ minimizes environmental impacts by replacing multiple traditional devices. Reduces the amount of PVC and DEPH that leaches into the environment and will reduce emissions if disposed of by a medical waste incinerator.
OxyMask™, OxyMask™ ETCO2, OxyMulti-Mask™, OxyTrach™, and OxyMask™ Aerosol do not contain natural rubber latex or phthalates such as DEPH. Non PVC OxyMasks are available.